This site brought to you by Stefan Gonick
EFT Practitioner, Trainer and Soulmate Attraction Mentor
www.EFT-Alive.com Single2Soulmate.me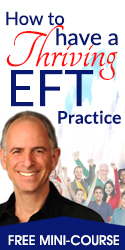 Disclaimer: The presenters feel that these workshops generate extraordinary benefits for all attendees. However, EFT is a very flexible process and thus the workshops represent the views of the presenter(s) and do not necessarily reflect those of EFT, Gary Craig or Stefan Gonick, the owner of this web site.
Teleclass Information
Emotional Freedom Techniques (EFT) Professional Skills 1

14 hour CE CME CNE
Date:
Monday, February 07, 2022 to Monday, March 07, 2022
Time:
This is online with live small group practice
Num Days:
2
Cost:
$397
Presenter(s):
Michael DeMolina, PhD
Robert Schwarz, PsyD
Location:
This is a teleclass.
Phone:
484-380--2448
Email:
Email Presenter
Web Site:
https://www.Eftonline.org
Return to Workshop Listing
---
What will the EFT training look like?

A 6 week, structured online program that allows you to learn EFT from the comfort of your own home or office, at times that are convenient for you

Mixed with 5, weekly LIVE 1 hour virtual small group practice sessions with your own trained EFT facilitator so you can ask questions and practice the skills (just like you do in an on-site workshop).

These live sessions let you practice EFT tools with another student.
Each live session has two aspects:

1) Discussions/questions - you will get to ask questions and there will be discussions of important concepts

2) Practice (this is so cool!) You will pair off with one person in a virtual break out room. You and your partner will actually practice different parts of EFT. If you run into issue you can ask for help from your facilitator or your facilitator may just enter the room and observe. This is just like doing a practice session in a live workshop.

Actually it is better because the ratio of students to trainer is 6:1.You will also have access to a closed Facebook page so you can interact with fellow classmates and get your questions answered.

PS1 Includes:
live, virtual small group meetings with trained EFT expert facilitators.

You will actually be doing online practice sessions with another student.
You can even ask for help from your highly trained EFT facilitator in real time.

Is tailored for mental health professionals, physicians, nurses and other licensed allied health professionals.

Includes demonstrations with detailed commentary to help you think like an expert EFT practitioner.

Is designed so that you will go deeper and faster than many other courses.

By the end of Professional Skills 1, you will have the basic tools you need to use EFT with many of your clients' problems. There is a follow up PS 2 class and then PS 3 mentoring and certification

You will:

Learn EFT from an integrative framework that spans many areas, from cognitive-based therapy to interpersonal neurobiology to Qigong

Discover how to incorporate EFT with the needs of clinical practice such as treatment planning

Learn techniques that are usually taught in more advanced EFT courses

Understand how to use EFT from both a palliative care/symptom management approach as well as a trauma informed framework. And you will learn when to use each approach.

Learn from trainers who are licensed mental health clinicians with over 50 years of combined experience AND who are experts in energy psychology, trauma, addiction, Qigong and more.

Be able to get CME/CNE (physicians and nurses) or CE (psychologists, social workers, counselors, addiction counselors)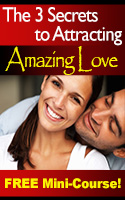 Discover the 3 Keys to
Finding Lasting Love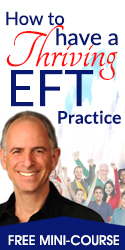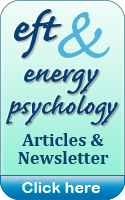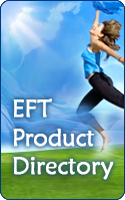 EFT never ceases to amaze me! The process is gentle and often provides benefits where other methods fail.

— Dr. R. Vergini, MD