This site brought to you by Stefan Gonick
EFT Practitioner, Trainer and Soulmate Attraction Mentor
www.EFT-Alive.com Single2Soulmate.me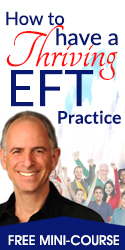 Disclaimer: The presenters feel that these workshops generate extraordinary benefits for all attendees. However, EFT is a very flexible process and thus the workshops represent the views of the presenter(s) and do not necessarily reflect those of EFT, Gary Craig or Stefan Gonick, the owner of this web site.
Workshop Information
Tap into YES with Brad Yates & Steve Wells

Become the Person You Wish to Be. Overcome What's Been Holding You Back
Date:
Saturday, November 14, 2020 to Sunday, November 15, 2020
Time:
9.30am to 5.30pm Sat; 9.30am - 5pm Sun
Num Days:
2
Cost:
$297 - $497
Presenter(s):
Brad Yates, EFT Expert and Steve Wells, Creator of Intention Tapping
Location:
Venue to be advised
Perth, Western Australia 94080 Australia
Phone:
0892719271
Email:
Email Presenter
Web Site:
https://www.eftdownunder.com/tap-into-yes-brad-yates-steve-wells-oz/
Return to Workshop Listing
---
For the first time, world tapping experts Brad Yates and Steve Wells will be combining their unique tapping approaches, live and in person, to help you free yourself to live the life you truly desire!

What do you want to say YES to in your life?
· More fulfilling relationships?
· Better performance (career, sports, academics…)?
· Improved health?
· More money?
· Greater spiritual connection?
· More peace and happiness…?

Do you feel like part of you has been holding back in these areas?

If you aren't experiencing what you want, chances are part of you is saying, "No!" to those opportunities. Let's face it, trying to change what you do without changing your beliefs and inner programs on how you see yourself is difficult, if not impossible since 80-90% of our behavior is unconscious.

Brad and Steve will show you how to free yourself from the struggle in this inspiring, fun, and powerful workshop that will help you get from where you are to where you want to be!

You'll Learn:
How to release your attachments to the limiting beliefs behind your current actions and clear out the old programming that limits your health, wealth and happiness.
How to free yourself from the inner struggle so you can make the changes you want without having to fight yourself.
How to find your 100% YES! and create the life you want using the power of EFT and Intention Tapping.

You'll get to:
Experience Brad's brilliant approach to EFT tapping
Learn Steve's revolutionary new Intention Tapping approach
Apply these powerful techniques to change your life!

Here's what you'll learn and experience:
We'll start with YOU; what you want to achieve and what's blocking you from achieving it. Since most of your blocking beliefs are unconscious, the first thing we'll do is show you how to uncover them. You'll be free to share or hold back what you discover here, there'll be ways for everyone to benefit. Even just being in the room and tapping along will be good for your energy!

Brad will show you how to use EFT tapping to overcome the emotional blocks and beliefs that have been holding you back and help you to go beyond where you've ever gone before.
He'll work on key issues such as what you want, what's preventing you from having it, who you think you are, and how to use tapping to chip away at your limitations to reveal the angel within (Brad's Michelangelo process). He'll be working creatively with actual issues YOU and other participants bring out during the workshop.

Steve will teach you how to use Simple Energy Techniques (SET), a user-friendly form of tapping he co-developed with Dr David Lake, to rapidly release emotional blocks and stress. He'll demonstrate SET with volunteers and via experiential exercises so you can try it out, and answer all your questions about this approach.

Next, Steve will teach you his brilliant new Intention Tapping process, and show you how you can use it to free yourself from the emotional attachments and beliefs behind your problems. You'll learn how to use this powerful process to tap into the vast resources of your unconscious mind and accelerate the results you can achieve with tapping. It's simple and you'll be able to apply it immediately in the workshop.

Brad and Steve will then take you on a journey to help you tap into your best self. Along the way you'll release your attachments to beliefs that have been limiting you, especially identify beliefs such as being "Not good enough", and free yourself to live the life of your dreams.

Expect to leave with new techniques, more energy, and a new game plan for changing your life.

Energy Techniques Brad and Steve will use:

Emotional Freedom Techniques (EFT): Brad will use his signature style of EFT to help you rapidly release your resistance to change.
Simple Energy Techniques (SET) is a gentle process of tapping co-developed by Steve Wells and Dr. David Lake that includes some refinements and simplifications to EFT. Like EFT, SET is easy to use, gentle, natural and effective as self-help.
Intention Tapping, also known as Intention-based Energy Process (IEP) is an exciting new emotional healing approach developed by Steve Wells that uses specific definite intentions combined with tapping to target the emotional disturbances behind your problems. Using IEP you can quickly quiet your mind, calm your emotions and access your inner resources.

Join us for a weekend to shift your perception of who you really are and what you can achieve – and cultivate the freedom to achieve success beyond what you currently believe is possible.

Your Presenters:

Brad Yates is known internationally for his creative and often humorous uses of Emotional Freedom Techniques (EFT). Brad is the author of the best-selling children's book "The Wizard's Wish," co-author of the best-seller "Freedom at Your Fingertips," and a featured expert in the film "The Tapping Solution"
He has also been a presenter at a number of events, including Jack Canfield's Breakthrough to Success, has done teleseminars with "The Secret" stars Bob Doyle and Dr. Joe Vitale, and has been heard internationally on a number of internet radio talk shows. Brad also has over 900 videos on YouTube, that have been viewed over 26 million times. More info is available at www.tapwithbrad.com

Steve Wells is an internationally recognised psychologist, leadership coach and peak performance consultant based in Perth, Western Australia. He presents and consults worldwide with business achievers and elite athletes to help them to improve their performance and enhance the performance of their teams. Steve has been teaching and researching Energy Techniques for 21 years and has helped many thousands of people through his worldwide workshops and training programs.
Steve is author of 100% YES! and co-author of 5 other books. His workshops are always inspiring and filled with practical techniques you can use immediately to get better results – with less stress!

You'll find more information at this web page:
https://www.eftdownunder.com/tap-into-yes-steve-wells-brad-yates-us/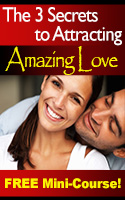 Discover the 3 Keys to
Finding Lasting Love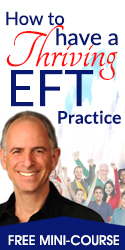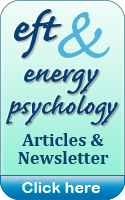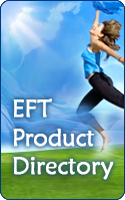 EFT never ceases to amaze me! The process is gentle and often provides benefits where other methods fail.

— Dr. R. Vergini, MD