This site brought to you by Stefan Gonick
EFT Practitioner, Trainer and Soulmate Attraction Mentor
www.EFT-Alive.com Single2Soulmate.me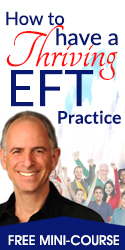 Disclaimer: The presenters feel that these workshops generate extraordinary benefits for all attendees. However, EFT is a very flexible process and thus the workshops represent the views of the presenter(s) and do not necessarily reflect those of EFT, Gary Craig or Stefan Gonick, the owner of this web site.
Workshop Information
EFT Level 3 Training Course, Phoenix EFT

AAMET Accredited
Date:
Saturday, March 02, 2019 to Sunday, March 03, 2019
Time:
10am-5.30pm
Num Days:
2
Cost:
£300
Presenter(s):
Christine Sutton and Philip Davis
Location:
92 Castle Lane
Olton
Solihull, West Midlands B92 8DF England
Phone:
1212469448
Email:
Email Presenter
Web Site:
http://phoenixeft.co.uk/
Return to Workshop Listing
---
EFT Level 3 Training Course, AAMET Accredited

2 Day Training with pre-read and pre-view material plus follow up sessions by interactive webinar. Contact time 20 hours

Extending level 2 theory and practice for more in-depth work for self and others.
Training to Level 3 is followed by post course exam, case studies and supervision for those who wish to gain EFT Advanced Practitioner Certification

This course is suitable for level 2 students or Certified EFT Practitioners with some experience who are ready to expand their understanding and knowledge base. We welcome students who have previously trained with other trainers.


Trainers: This course is run by Phoenix EFT Therapies and Training.
Christine Sutton and Philip Davis are experienced AAMET registered and accredited Master Trainers and Master of Trainers of Trainers in EFT.
All courses conform to the current AAMET guidelines for content and are certificated.


2 Day Training, 10am-5.30pm both days
plus minimum 4 hours post course group webinars.
Course Fee: £300

Further Fees for those who wish to gain Certification and Accreditation with AAMET at Advanced Practitioner Level.
• Online Multiple Choice test: £15.00, payable to AAMET when you are ready to take the test
• Marking fee for Case Work: £50, payable to Phoenix EFT when you are ready to your submit case studies.
• Attendance at supervision day: £50, payable to Phoenix EFT when you are ready to book for the day
• Annual Fee for AAMET membership at Accredited Certified Advanced EFT Practitioner Level is £45



Topics include:
• Student-student interactive practical sessions where you can practice new techniques on each other and then share results and insights with the group
• Q/A sessions
• Brief review of Level 2 topics as required by students
• Discussion of difficult cases
• Ongoing personal awareness and self-work
• A Model of client's issues
• New Approaches to issues
• Uncovering and working with Core/Limiting Beliefs
• Borrowing Benefits Demonstrations/Group work
• More on getting past PR
• More on Choices
• Reframes - Healing by shifting the viewpoint
• Body Language/Eye Movements – how to read what your client isn't saying.
• The significance of Visual/Auditory/Kinaesthetic modes of interaction
• Use of Submodalities in therapy
• Use of Voice/Language
• Altered states of consciousness
• The Emotional Scale in therapy practice
• The place of Love and Forgiveness in healing
• Unlocking Repressed Emotions and "forgotten" issues
• Working with Complex conditions –Psychological disorders, Physical diseases and conditions, Addictions, Phobias, Allergies
• Protective distancing techniques
• Working with Parts
• Advanced techniques
• More on testing
• Legal Considerations of therapy practice
• Explanation of CPD requirements
• Information on Supervision sessions

We also include lots of tips and hints on handling clients and working with their issues, lots of examples from our own experiences and demonstrations of new techniques as they are introduced.

Training is done in small groups of 4-6 people so that everyone can fully participate. We offer a full back-up and advice service to all students for as long as they need it, plus mentoring and CPD opportunities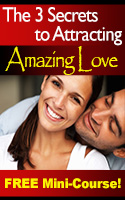 Discover the 3 Keys to
Finding Lasting Love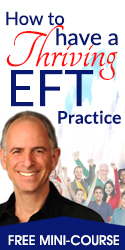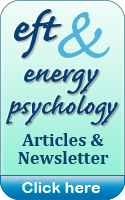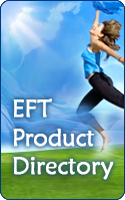 EFT never ceases to amaze me! The process is gentle and often provides benefits where other methods fail.

— Dr. R. Vergini, MD